Ghost in the Locks: Owning Electronic Locks Without Leaving a Trace
A little over ten years ago, a friend of ours returned to his hotel room to find that his laptop was gone. The door to his room showed no signs of forced entry; there was no record that the electronic lock had been accessed while he was away; and there was certainly no evidence that this electronic lock, deployed on millions of doors in more than 150 countries worldwide, could have been hacked.
Sometimes hacking boils down to spending more time on something than anyone could reasonably expect. This talk is an ode to that cliché. It is the culmination of a decade-long quest to find out whether the most widely used electronic lock in the world can be bypassed without leaving a trace. And in this adventure, breaking into hotel rooms is only the beginning. But lucky for all of us, unlike most cases of theft from hotel rooms, this story has a happy ending.
Location: BALLROOM 1
Date: August 30, 2018
Time: 2:00 pm - 3:00 pm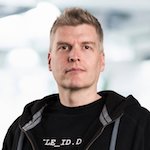 Tomi Tuominen
Timo Hirvonen
UP