Attacking NVIDIA's Tegra Platform: Hacking Your Smart Phones, Tablets and Cars
Tegra is a system on a chip (SoC) series developed by Nvidia for mobile devices such as smartphones, personal digital assistants, and mobile Internet devices.
Nvidia targeted Tegra as the fastest mobile processor in the world.
Although Tegra platform is not famous as Qualcomm platform in smart phone field, but Tegra platforms are used in many important devices.  For example, Google Nexus 9 Tablet is using Tegra K1 platform, Tesla moto is using Tegra 3 platform in its cars. Chromebooks are also using Tegra platforms. There are also many other smart devices and cars using Tegra.
In this session, I will introduce:
1, Tegra platforms' background knowledge.
2, Some critical vulnerabilities on Tegra platforms I found.
3, Details of how to exploit these critical vulnerabilities to bypass all mitigations and finally compromise the kernel.
4, Demos. Root currently latest version Google Nexus 9
Location: InterContinental
Date: August 25, 2016
Time: 12:00 pm - 1:00 pm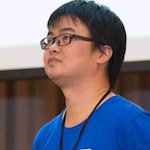 Peter Pi
UP